I had to take a few days to let this book sink in. Why? Because this is not your average Rocker Romance. Oh no. Cari and Taryn have elevated this to a whole new level. And I'll tell you right now, it doesn't end here.
I can't get much into that BECAUSE SPOILERS AND I SO HATE YOU GUYS *ahem*. But let's just say that it ends on a cliffhanger.
We'll instead talk about the main story.
Luc has been trouble for his band 'The Grunge' for years. It's just terrible timing however, when Dex announces they're dumping him, and the perky blonde singer from 'Warning Sign' walks by and demands an audition to replace him. He just wishes that they hadn't sounded so amazing together - because now they're stuck co-leading her band, and neither of them can deny how much they sizzle.
Then there's Ethan. Molly's dirty Professor. He kept showing up everywhere, including Denver & Ryan's wedding. He'd become one of Walking Sign's extended family, and it was becoming impossible to ignore him. She was already in that "wedding" headspace - wistful about all of her friends belonging to someone - and he jumped on that mood like... well, like a Professor on a houndstooth jacket.
After her encounters with Ethan at the wedding, and Luc when they sang together, she was utterly dizzy. Then the three of them came together at the same time, and Ethan made it perfectly clear that he'd be open to having some fun with both Molly and Luc.
Molly knew triads worked, she saw it daily between Lauren, Randy, and West - but was that kind of thing for her? She definitely wanted both men, but did she
want
both men? She had enough on her plate with Lila Shawcross on her case, and now having to share
HER
band with Luc himself.... Did she need the extra drama?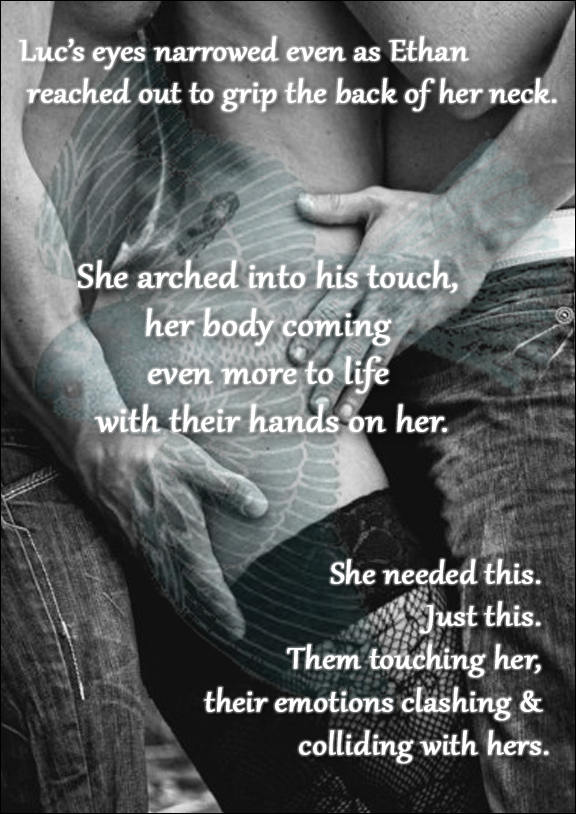 Maybe they could keep things casual. Maybe they could make the co-lead singer thing work. Maybe Ethan wasn't a distraction. Lots of maybes, lots of complications, lots of other things that come with falling for the last people you thought you would.
--------------------
In my opinion, this is the best 'Oblivion' book yet - and that's saying something. I've been with them
from the very beginning.
You're gonna need some kleenex by the time you're done, and also be ready to wait a little bit for a resolution to the story that simmers in the background.
This book gets five "dancing in lingerie" stars.