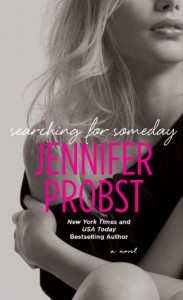 Jennifer Probst has quickly become one of my favorite authors. Her books are just the right combination of quirky, sexy, and hilarious. I just about jumped up and down when I was approved to read "Searching for Someday" early, and I was *not* disappointed.
This book is the beginning of a new series - a spinoff of the
"Marriage to a Billionaire"
series. The great part about this book is that you don't necessarily have to read the original series to enjoy the new one. However, there are references to some characters we got to know in MtaB, so I felt like I found a little 'easter egg'.
I'm not one for paranormals, but the little bit of magic included in 'Searching for Someday' made the story seem like a modern day fairy tale. I can definitely get behind that. I also liked the tie-in between the heroine's 'power' and the
"Book of Spells".
As an avid comic book reader, I tend to think about what super power I'd want, and I think if I had Kate's I'd find it a blessing and a curse. Of course, she uses it to full advantage - until she meets Slade. Slade gives her a jolt strong enough to cause a short-circuit, and she doesn't know what to do with herself.
Kate goes to her mother for advice, and leaves even more unsettled - with a gift that Slade inadvertently sees. The gift had nothing to do with her situation, but it was truly funny to read the interaction it prompted between Kate & Slade.
I really dug the periphery characters and I'm already chomping at the bit to read more about them. Of course, we got the resolution to Jane's story (Slade's sister) which was a nice side-story. Love that Slade is a softie underneath the Alpha tendencies - a perfect blend of tough and loving.
Robert was a great conduit to further the connection between Slade & Kate, and he also gave poignancy to an already amazing story. It was easy to go through some emotions throughout the book, but the epilogue made me well and truly cry.
I can't wait to read the whole series book by book - then (like I did with MtaB), binge re-read it again after they're all released.
Five out of Five stars - for romance readers, I can't imagine not liking this book.